Home learning resources
During this time of uncertainty, we wanted to provide you with a few websites that are offering free or temporarily free resources for learning at home. If anyone has any other suggestions please share them, either on the school or parent group Facebook page. We are also suggesting that if you want to download anything to do it sooner rather than later, with everyone working at home there is going to be increased stress on broadband and internet providers.
This is understandably going to be a stressful time for children and parents and the last thing we want is for anyone to feel more stressed about having to get your children to do school work at home. Don't stress about doing school work at home, don't stress about them forgetting. Just spend time together. Read! Read to your children, read together, share your favourite books with them. Enjoy being with your family. Do a puzzle or a project on something they are interested in. Bake together. Paint and build something. Although this is a scary time, it could also be a time that they remember for all the positive things they get to do at home.
This PDF is a useful guide to explaining Coronavirus to children. Talking to children about Coronavirus.
This word file is a useful guide to your home learning schedule: Guidance for home learning

Resource added 4 June
Picture News – Black Lives Matter
Resources for w/c 1 June
Story: There has been a huge increase in people wanting to work in the healthcare sector recently.
Question:  Why do people choose the jobs they do?
Virtual Assembly: Now live on the Picture News Vimeo channel!
Primary Picture News Resource England – 1st June – Jobs we do
Learning from Home Ideas – 1st June – Jobs we do
Resources for w/c 27 April
Picture News looks at Captain Tom Moore's recent achievement – please download the zip file. Captain Tom Moore resources
Create a bug hotel
There are some lovely activities on the RSPB website, including making this super bug hotel:
Natural material pictures
These wonderful art ideas have been created using natural resources. These could be simplified for different age ranges. Why not have a go at creating a collage using natural materials – let your imagination go wild!
Resources for w/c 20 April
Primary Picture News Resource England – 20th April – Places we go
Learning from Home Ideas – 20th April – Places we go
Wallace & Gromit Cracking Ideas Competition:
Can you reinvent an everyday object, making it better than before?
Try and come up with a cracking idea that helps get boring jobs done quicker and better, draw it and explain how it works then enter the Wallace & Gromit Cracking Ideas Competition. You can enter and register
online
or send your entries in by post.
BBC Bitesize daily lesson by year group
Use this resource if you would like a more structured approach to homeschooling. Check your latest snapshot from us as this will indicate which year group to pick. For example if your child is in year 3 but and working at year 2 then select year 2 lessons to begin with.
Resources for w/c 13 April
Primary Picture News Resource England – 13th April – Testing
Learning from Home Ideas – 13th April – Testing
Physical exercise at home
• Go Noodle – This is a great website for getting children up and moving and dancing to some silly videos! https://family.gonoodle.com/
• Joe Wicks will be hosting PE with Joe on his youtube channel TheBodyCoach TV. This will happen every morning Monday–Friday 9am.
• Real PE at home – online learning resource
Real PE at home includes an online programme which supports families to be active, play and learn together. It includes a programme specifically for children with daily and weekly guidance provided. Each school has their own unique email and password.
See the details below to access our real PE at home –
Website: https://home.jasmineactive.com/login
Parent email: parent@rackenford-1.com
Password: rackenford
• Yoga, mindfulness and relaxation designed specially for kids
Downloadable PDFs:
Yoga, mindfulness and relaxation designed specially for kids is used in schools and homes all over the world. Click here to find out more https://www.youtube.com/user/CosmicKidsYoga
• imoves
This is another free fun site with activities for teachers and parents to keep children happy, healthy and focused. They have re-purposed 'imovement' resources to enable active learning at home as well as in the classroom.  Do take a look https://imoves.com/imovement-signup
Keep moving while at home and keep smiling!
PE/exercise activites (PDF download)
General Resources
Bloom's Taxonomy: Teacher Planning Kit (PDF download)
Exploring Nature with Children (PDF download)
Rackenford – golden rules poster (PDF download)
Rackenford – are you… poster (PDF download)
Empowering early years: utilising Loose Parts and provocations to enhance learning (PDF download)
Coronavirus information leaflet for children (PDF download)

Safeguarding contact details (PDF download)

Babcock – support for parents, teachers and pupils

Useful websites list (PDF download)
Audible Stories
Audible are offering free online stories while schools are closed. This means children 'everywhere can instantly stream an incredible collection of stories, including titles across six different languages, that will help them continue dreaming, learning, and just being kids'. All stories are free to stream on your desktop, laptop, phone or tablet. https://stories.audible.com/start-listen
Digital library books
If you're a member of the Devon library service, you can download a selection of digital books via the 'Libby' app.
Apple app store (iPhone/iPad)
Google play store (Android phones/tablets)
• Once downloaded, search 'Devon libraries'
• Choose 'Devon Library and Information Services'
• Log in using your library card number.
Make a miniature book
The British Library have a great online resource, one which might help your child to continue learning to read would be creating their own tiny book for their toys.
Do you like having having a story read to you? Would you like to make a miniature book for your toys? What would it be about? Would it be a fairy tale or an adventure? Take a look at how to make one here https://www.bl.uk/childrens-books/activities/make-a-miniature-book#
Window walks
Also something closer to home – children are designing pictures to place in their windows as encouragement to others in these uncertain times. Some local online groups have suggested the below ideas for Tiverton. We look forward to seeing some of your examples!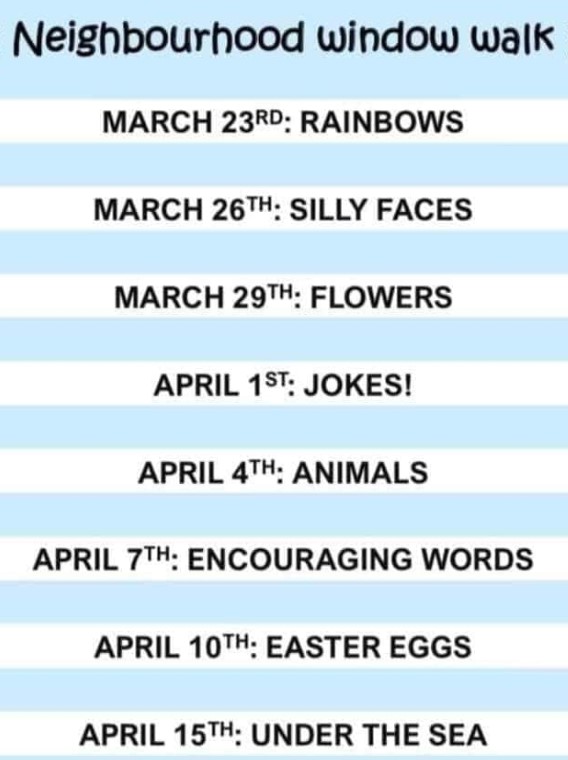 Litter and Literacy
Here are a few ideas for some English work linked to 'The Girl with the Yellow Bag' from The Literacy Shed. https://www.literacyshed.com/girlwithyellowbag.html
In the film we meet the little girl from 'The Silent Books' once again. This time she has a magic bag in which she places objects and wonders appear. We have often linked this with a recycling…
This is a lovely video about a little girl with a magical yellow bag. She puts 'rubbish' into the bag and it gets transformed into something beautiful. Here are a few suggestions for you to do after watching this video:
If you had a magic bag what would you put in it? You could go outside and collect things to go in the bag. What would your 'rubbish' turn into? A leaf could become an enormous tree. A piece of grass could become a vast tiger filled field. Let your imagination run wild!
Draw pictures of yourself with the yellow bag, putting something into it and then it being transformed.
Write the story to go with the pictures, watch the video and for each picture write a sentence that would create the story.
Write your own version of the story, with yourself as the main character putting objects into the bag and what they turn into. Make sure you use lots of describing words (adjectives) to describe what goes into and what comes out of the bag.
Do some junk modelling. Use something that is 'rubbish' and turn it into something new. We would love to see your creations!
Do some research on recycling, what do you recycle at home? What can it be made into or how can it be reused? (There are some useful BBC Bitesize clips below)
https://www.bbc.co.uk/bitesize/clips/z7x2tfr
https://www.bbc.co.uk/bitesize/clips/zwywmnb
https://www.bbc.co.uk/bitesize/topics/zrssgk7/articles/z9w26sg
What's the best way to sort waste? – KS2 Science – BBC Bitesize
A young girl sorting her recycling at home is compared with the recycling process at a recycling plant. The pros and cons of both methods are shown. https://www.bbc.co.uk/bitesize/clips/z7x2tfr
What should I do with my rubbish? – BBC Bitesize
What should you do with your rubbish? Learn how about recycling and its effect on the environment in this BBC Bitesize KS1 Science guide. https://www.bbc.co.uk/bitesize/topics/zrssgk7/articles/z9w26sg
Twinkl
To support you during this period, Twinkl is offering every teacher in England access to all Twinkl resources with a One Month Ultimate Membership, totally free of charge. We're also extending this to every parent and carer in your school so your pupils can still have access to high-quality learning during any periods of disruption. Setting this up is really easy to do – go to www.twinkl.co.uk/offer and enter the code UKTWINKLHELPS
Twinkl Go also has lots of good games and videos. https://www.twinkl.co.uk/go
TTS
TTS has put together activity books for children that are free to download and include lots of different subject areas. https://www.tts-group.co.uk/home+learning+activities.html
BBC Bitesize
Bitesize has great video, articles and games. They are also creating lots of extra resources due to the school closures. https://www.bbc.co.uk/bitesize
Maths
Top Marks – Has a variety of games for different subjects but we have used the maths games in class https://www.topmarks.co.uk/
Times tables rockstars – Your child will have a separate letter/email with the log in details and instructions
White Rose Maths – White rose maths is a resource that we use for the majority of our maths teaching in school. They have put together packs for different year groups that include instructional videos and activities. https://whiterosemaths.com/homelearning/
Twinkl maths activities PDF: Addition help
Reading
Phonics Play – Are offering free access to their site without the need to subscribe. The parents section of the website has advice and guidance on phonics as well as games for each phase. https://www.phonicsplay.co.uk/
Twinkl phonics PDF: Phonics mats
Twinkl top tips for reading: T-C-7126-Top-Tips-Reading-with-Your-child-at-Home
Twinkl tricky words: T-L-5089-Common-Exception-Words-Years-1-and-2-Word-Mat_ver_3 copy
Twinkl awesome adjectives activities: t-par-179-awesome-adjective-activities-guide-for-parents-english_ver_2
Oxford Owl
Has access to online ebooks for 3 – 11 year olds (free to sign up) https://www.oxfordowl.co.uk/for-home/find-a-book/library-page/
This is not an exhaustive list, nor are we saying you have to do all of these! Each class has also been set up with an email address so that class teachers and pupils can remain in contact and share the things you have been doing.
Class 1 – rpsclass1@outlook.com
Class 2 – rpsclass2@outlook.com
Class 3 – rpsclass3@outlook.com
Picture News
This letter will give you some assistance in using the Picture News resources: Picture News at Home – Letter Template
Animals in the Wild resources:
Primary Picture News Resource England – 6th April – Animals in the Wild
Learning from Home Ideas – 6th April – Animals in the Wild
Scholastic
Years Pack:                       https://resource-bank.scholastic.co.uk/resources/439122
Key Stage 1 Pack:            https://resource-bank.scholastic.co.uk/resources/439121
Lower Key Stage 2 Pack: https://resource-bank.scholastic.co.uk/resources/439120
Upper Key Stage 2 Pack: https://resource-bank.scholastic.co.uk/resources/439108
Note you can also buy additional resources from the online Scholastic Shop, and we can earn 25% rewards from orders placed over £10. At checkout it will ask parents/carers to donate rewards to a school of their choice. Online shop link – https://shop.scholastic.co.uk/
Wellbeing resources
The Link Academy Inclusion and Improvement Hub have put together a pack to support mental wellbeing at home. The pack begins by exploring how we can connect and support ourselves as adults so that then we can feel better equipped to support our children. Some parents/carers may be feeling anxious about having children at home for sustained period of time so there are also lots of ideas for activities parents can do.
Coronavirus: Supporting Mental Wellbeing Pack (PDF download)
YD Expanded Wellbeing Toolkit (Devon)
We hope you will find this a useful resource. You can also access the Facebook page which you can find by searching: @inclusionhubdevon. They will be posting regular updates with ideas and activities that support parents and children's mental health.
Open Minds
Open Minds is an early intervention service that supports the emotional wellbeing and development of young people. Starting from the week beginning 30th March, it will be offering 40-minute online sessions via Zoom for parents, carers and education professionals.
The themed sessions every Tuesday and Thursday afternoons will help children and families find a sense of calm and manage this tricky time. There will be different tools to take away and use in every session.
£3 per session. To book please email malouopenminds@outlook.com. Find out more at www.openmindsuk.org.uk.